HUNTINGTON BEACH, Ca. — In 2008, Harvey Saarloos, a Huntington Beach native with a passion for running, participated in a local Turkey Trot. But he didn't know where the money raised by the race was going, and this bothered him. 
Harvey had heard about World Help, an international humanitarian organization that among its many projects provides clean water solutions for communities in developing countries. Thinking about his two passions — running and helping people — sparked an idea that would bring hundreds of people together to impact the lives of thousands of people across the world.
In 2010, Harvey and a friend organized the first Huntington Beach Turkey Wobble in partnership with World Help, knowing that the money would go to clean water projects in developing countries. That first race raised enough money to build a clean water well and provide 1,300 people with clean water.
Eight years later, the Huntington Beach Turkey Wobble has raised enough money to provide clean water for 38 communities in countries such as Haiti, Uganda, India, Guatemala, Honduras and the Philippines. Each clean water project provides fresh water to 1,000 – 1,500 people.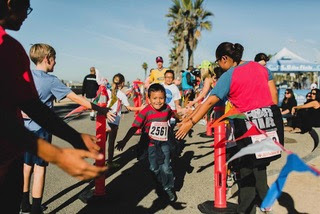 This Thanksgiving, Nov. 22, the Huntington Beach Turkey Wobble will offer people of all ages and skill levels the opportunity to make a difference around the world while running on one of the most beautiful beaches in America. 
The race starts and ends at the corner of Pacific Coast Highway and Beach Boulevard, taking runners through the historic Huntington Beach Pier, the outdoor Surf Museum and the charming Main St. of Surf City. Adult participants can choose to walk or run a 5K or 10K. A special 1K route also is available for children.
The $35 race entry fee helps provide people with clean water for years through World Help's clean water programs.
Hundreds of millions of people all over the world have to travel miles to get drinking water. Even then, the water they have access to is contaminated, causing malnutrition and waterborne diseases. The World Health Organization estimates that more than 500,000 people die every year due to diarrhea caused by drinking contaminated water.
Before the implementation of a fresh water well, the people of Tamarindo, Peru, had to collect rainwater and share an open well which would dry up in the summer. Traveling miles for water prohibited children from getting an education, locking them in a state of poverty. 
The people of Tamarindo waited 28 long years — until World Help, thanks to support raised through the Huntington Beach Turkey Wobble, provided a clean water well for the community. Now that they have access to clean water, they have the opportunity to get an education and support themselves, helping open opportunities for the community.
"Many families share what they are thankful for during their turkey dinner, but being thankful for clean water almost never crosses our minds. It freely flows from our sinks, showers and sprinklers. We don't have to walk miles to gather contaminated water that will make our families sick. But this is the reality for more millions of people around the world," Founder Harvey Saarloos said.
"This year, as we have done for the past eight years, we will run for those who do not have access to safe water sources. The gift of clean water can transform the life of an entire community. I cannot think of a better way to express our gratitude this Thanksgiving than to run for a cause such as this one."
Thousands have joined Harvey Saarloos and World Help throughout the years. Those interested in joining the cause can sign up for race time slots or volunteer opportunities. 
Learn more about the Huntington Beach Turkey Wobble through the race's Facebook page or watch this YouTube video with highlights from the 2010 event.
###
World Help is a Christian humanitarian organization committed to serving the physical and spiritual needs of people in impoverished communities around the world. Since its inception in 1991, World Help has delivered humanitarian aid to more than 82 million people in 71 countries.
Website | worldhelp.net   Twitter | @world_help  Facebook | World Help