WASHINGTON – In yet another attempt to silence pro-life speech, Big Tech has sided with the abortion industry by banning Live Action advertisements on TikTok. Live Action is the only pro-life organization with a large following on the platform, and spreading facts about abortion is vital on that platform specifically.
In the latest attempt to silence the pro-life organization's content, TikTok has banned Live Action from advertising on its platform. While our content is still available to those who search for it, we are blocked from expanding our reach to new viewers.
TikTok is one of the most popular platforms for Gen Z with the capability of reaching millions of young people every day.
Planned Parenthood contin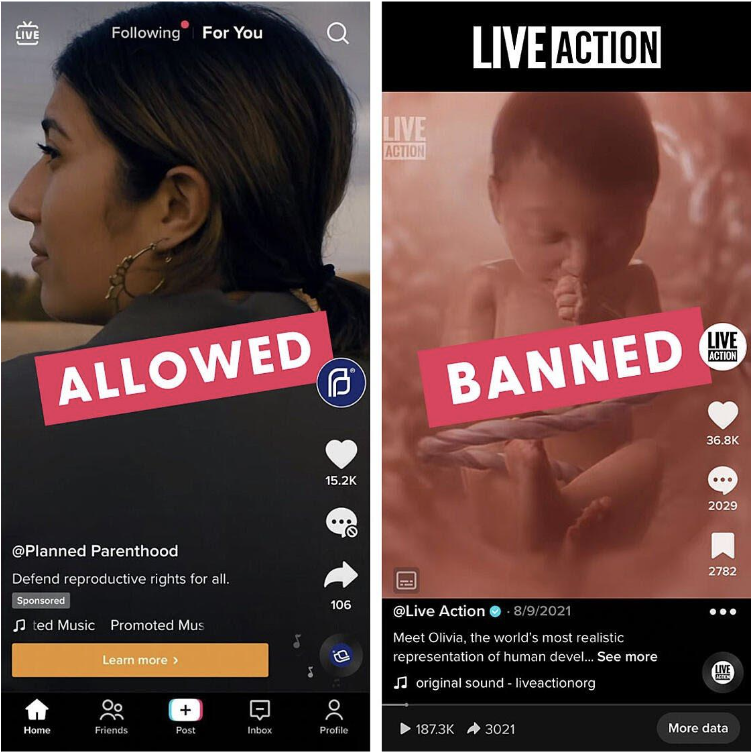 ues to be allowed to freely run pro-abortion ads to youth on TikTok, while Live Action's ads that save the lives of preborn children have been completely censored.
In addition, founder and president, Lila Rose, was also recently BANNED from the platform entirely.
In response, Rose said, "Unfortunately, censorship is nothing new to us. Large technology companies play an ever larger role in our lives, including by deciding what information we come in contact with. We must rise against this unjust censorship. While we respectfully demand the reinstatement of our ads on TikTok, we will also proactively work to expand our reach on all of our other platforms."
Live Action uses social media to reach young people where they are with transformational content. By censoring the most prominent digital pro-life group in America, TikTok and its Big Tech allies are trying to muzzle the pro-life message from reaching young people of reproductive age.
Rose continued, "We believe that one crucial step towards ending abortion in our country is saturating the online market with powerful and transformative pro-life content that counters pro-abortion lies and is proven to change minds and save lives. We work hard to reach young people to expose the abortion industry and reveal the beauty of new life from the moment of fertilization. The longer we are suppressed on TikTok, the more lives that will be lost to abortion. The censorship must end."